Keeping up with development in the Denver area is like trying to keep up with the weather: something new is happening all the time. The area continues to grow in exciting ways. Among the number of interesting projects, here are a few that recently caught our attention: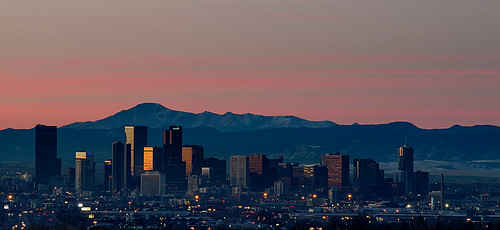 by
MKoneeye
1144 Fifteenth:
This $141.3 million glass-and-aluminum tower will be the fourth-tallest building in Denver (not including the Four Season's Hotel and Residences' 75-foot spire), according to the Denver Post. The finished building will be 603 feet high and feature 27 stories of office space, a 5,000 square foot fitness center, outdoor terraces and retail and restaurant space. It's the first office building of its size built in Denver in 30 years, notes the Post.
Stapleton:
Located on the eastern edge of Stapleton, this new commercial development will feature 22,000 square feet of retail and restaurant space. The plan, according to the Denver Post "is to bring in eight to 12 'primarily local' tenants – a vibrant mix of boutique retail and chef-driving restaurants." Developers are particularly excited by the commitment of noted chef-restaurateur Troy Guard (TAG, Guard and Grace, and Bubu) to open two restaurants in the new space.
North of Anschutz Medical Campus (area bounded by East Montview Boulevard, Peoria Street and Fitzsimons Parkway):
Plans are in play to repurpose 150 acres of the former Fitzsimons Army base. The new development will accommodate high-tech companies, student housing, restaurants and retail outlets — and will be served by the light rail stop on Fitzsimons Parkway, making it particularly attractive to workers and other end users.

It's an exciting time to be living in Denver and a great time to invest in our growing city. Search for Denver real estate on our website to see what's available in these neighborhoods as well as around the entire metro area. Click here to start!